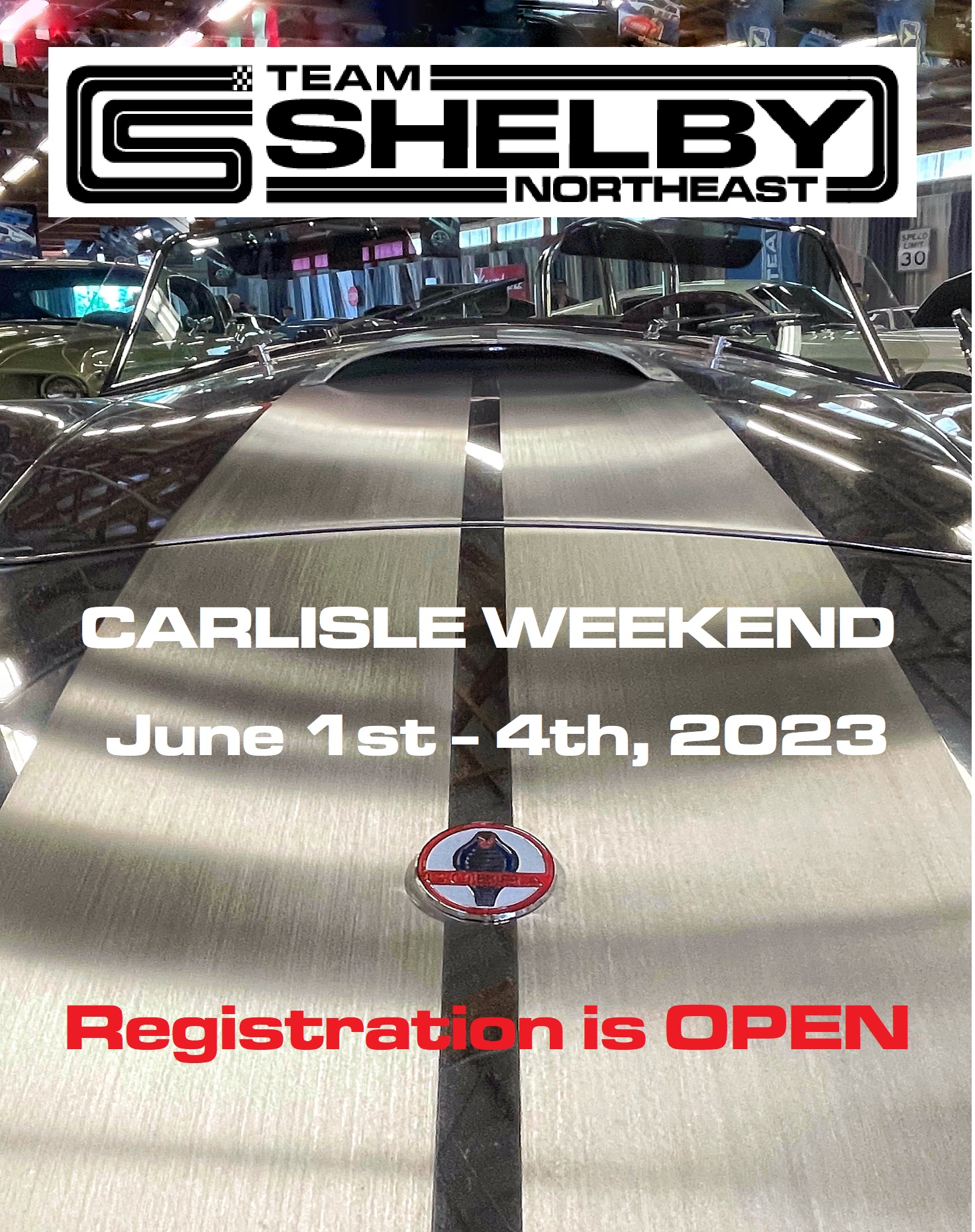 Carlisle Weekend 2023
Team Shelby Northeast invites you to spend a relaxing weekend with us in Carlisle, PA as we begin our Shelby Centennial Celebration at the Ford Nationals.

This year Carlisle will be a stand-alone event as we will be celebrating the East Coast Grand Nationals in mid-July out in Pittsburgh. Our Carlisle Weekend will begin on Thursday and run through late Sunday morning. This year there will be more time for visiting, walking the show field, and enjoying all the activities that the Ford Nationals at Carlisle has to offer. We will still lead the Shelby Grand Entrance on Friday, host a formal dinner on Friday evening, have a hospitality tent and lunch on Saturday, Team Shelby exclusive car show, Charity auction items, and more.
While not in our original plans, but due to the generous sponsorship of Shelby East, we have added an optional track day at New Jersey Motorsports Park on Thursday! This track day is specifically geared towards first time and novice drivers. The morning will feature "lead and follow" sessions to get everyone familiar and comfortable on the track. In the afternoon we will step it up a bit and run the traditional intermediate and advanced sessions (no novice sessions). Novice drivers will be allowed to do ride alongs with more experienced drivers in the afternoon. The track day will be overseen by NASA (National Auto Sport Association) and will follow their rules and requirements. If you have EVER thought about getting your car on track, this may be the best, safest, and easiest opportunity you will ever get to experience 'life in the fast lane'! (More details below)
For those arriving in Carlisle on Thursday, we will unofficially kick-off our weekend with a meet & greet at a yet to be determined location where we can all meet for dinner and "social" (anyone from the early years of the East Coast Grand Nationals knows what that means). If you are down at the track on Thursday evening, something similar is being planned.
Friday we will leave you pretty much on your own during the day to explore the Carlisle Fairgrounds, walk the show fields, attend vehicle introductions on the main stage, visit the multitude of vendors on the Manufacturer's Midway and in the swap meet area, and to hang out with friends. You are on your own for lunch on Friday but are welcome to meet and eat in our tent, or just come in to escape the sun and rest your feet.
Friday afternoon, once those who were at the track join us, we will lead the Shelby Grand Entrance into the Carlisle Fairgrounds and parade our cars around the show fields for all to enjoy.
Friday evening, we will host our dinner program and Cars Under the Stars car show at a hidden gem of an automotive museum that is a little off the beaten path and may not have been previously visited by many of you. We will have a few speakers, and a few auction items, but the emphasis will be on giving everyone time to explore the museum and discover what secrets it has to share with us.
Saturday we are back at the Fair grounds to enjoy the day. We will host lunch in our tent and award the Cars under the Stars car show trophies to the winners. Saturday evening we will get back to our Carlisle roots and join in the parade of Fords to downtown Carlisle to enjoy the restaurants and entertainment there as we please. Be sure to sign up for the parade when making your show field registration with Carlisle.
Sunday we make a quick stop by the fairgrounds one last time to check to see who in our group has won an award from Carlisle, walk vendor row looking for last minute items, and say goodbye to our friends until the next time…….which would be the East Coast Grand Nationals in mid-July!!!!
NOTE: Host hotel reservation information will be sent via email with your event registration confirmation
CARLISLE WEEKEND PACKAGE:
Shelby East Veterans Fund Raiser Track Event
"Dog Tags & Green Flags"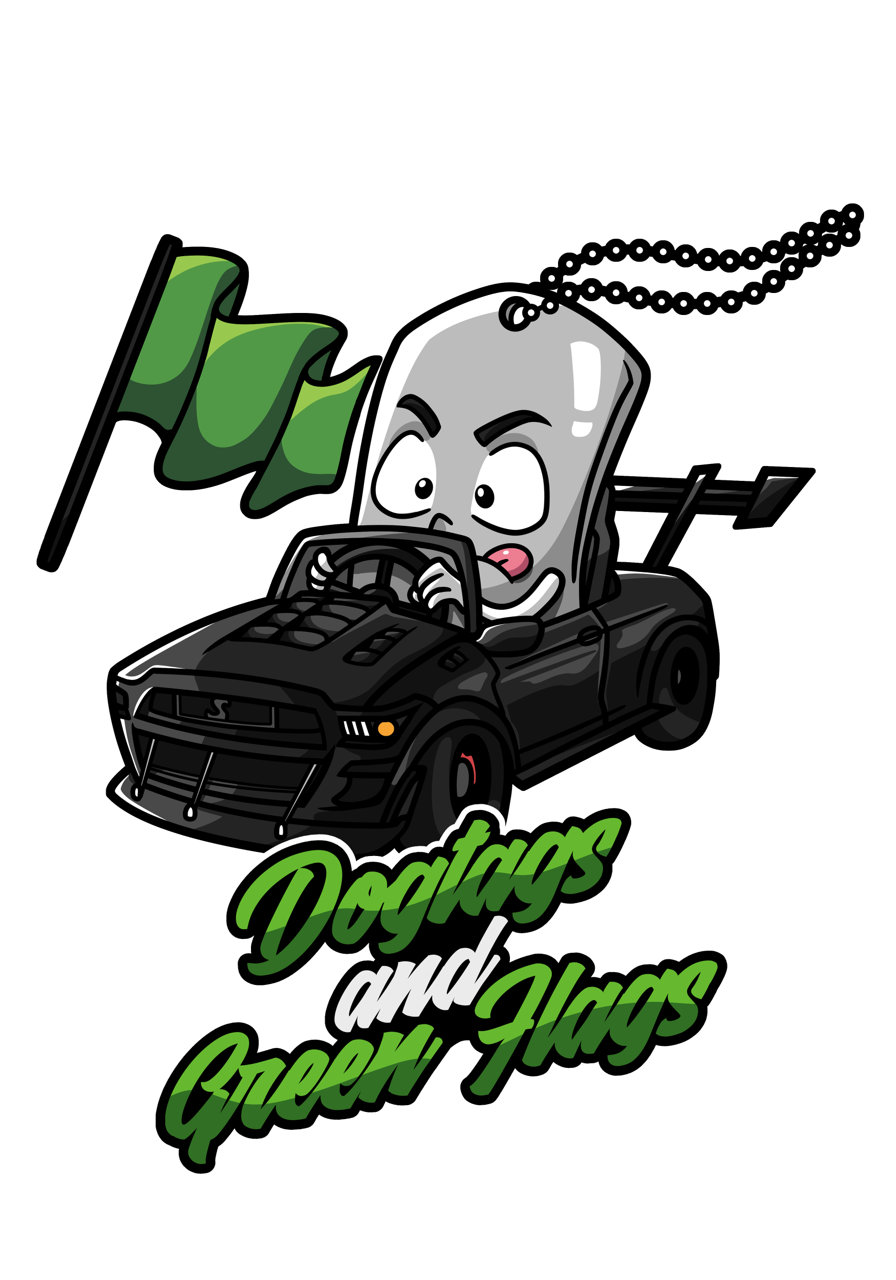 All proceeds from this event will be donated to a local veterans organization:
Athletes with Disabilities Network Northeast Chapter
Shelby East is excited to announce our June 1, 2023 Veterans fundraiser ahead of the Team Shelby Carlisle Weekend.
Hosted in conjunction with NASA Northeast at New Jersey Motorsport Park's Thunderbolt Raceway, this unique event will offer something for every enthusiast.
For beginners or those who would like to get on track without pushing too hard, 3 sessions of paced laps with classroom instruction will be offered in the morning.
For Intermediate and Advanced drivers we offer 3, 45 minute long sessions for each group with the final session being a joint 30 minute group utilizing intermediate group passing rules.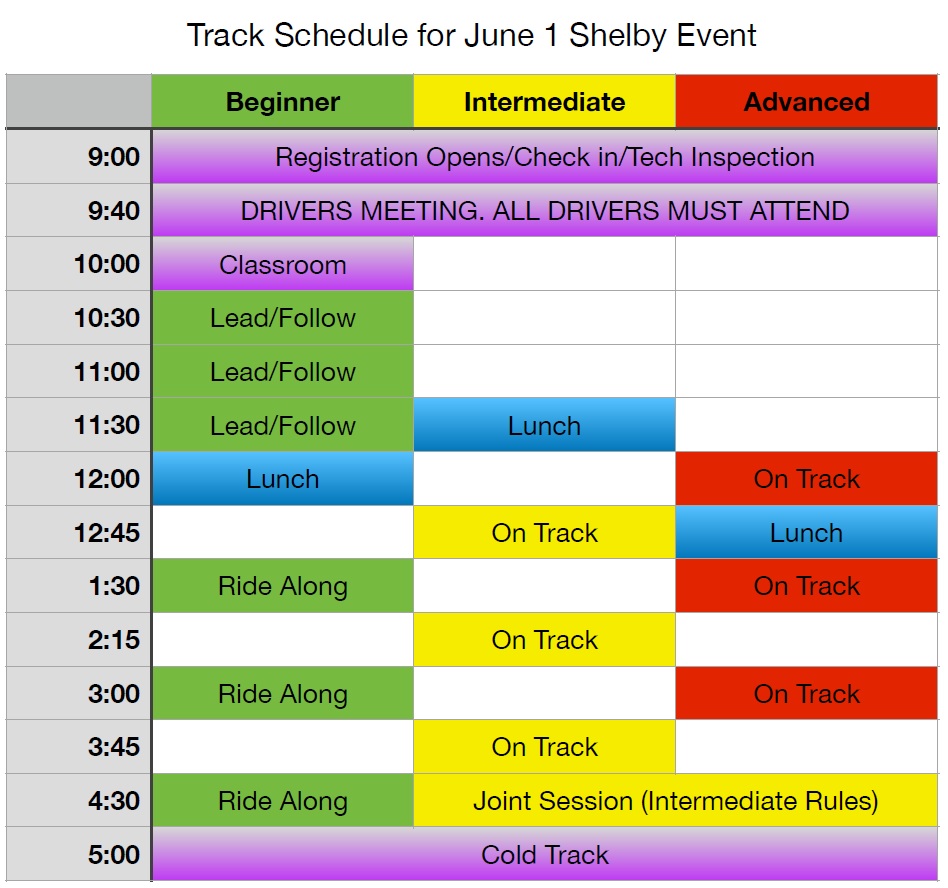 This is a Self-Tech event, tech sheets must be brought along with safety equipment to the Tech inspection center (Helmets must be SA2015 or newer) HANS and HYBRID Systems are strongly encouraged but not mandatory. If you are in need of updated safety equipment, please check out our partner, Project Motoring, at www.projectmotoring.com. Mention you are attending this event for an additional discount. Please also check your tires ahead of time. We strongly discourage running tires more than 5 years old regardless of how they may look. Any vehicle with tires that have visible Dry Rot will not be allowed on track.
Light Faire Breakfast will be provided along with the availability of an informal Lunch and Dinner.
We will have a photographer onsite to catch all your on-track action. Photos can be purchased post event.
Lodging is available at the track https://njmp.com/accommodations/ as well as nearby. The following hotels offer a 15% discount if you are going to NJMP:
Hampton Inn & Suites 2134 W. Landis Avenue – Rt. 55 / Exit 32A Vineland, NJ 08360 (856) 405-0600 Email: racers@towerhospitality.com
Holiday Inn Express & Suites 398 Smith Street – Rt. 55/ Exit 27 Vineland, NJ 08360 (856) 293-8888 Email: racers@towerhospitality.com
Wingate by Wyndham 2196 W. Landis Avenue – Rt. 55-Exit 32A Vineland, NJ 08360 (856) 690-9900 Email: racers@towerhospitality.com
---
Carlisle Weekend Package (per person): $149.99
Admission/Credentials for Team Shelby Carlisle Weekend
Invitation to 'unofficial' Thursday evening kick-off in Carlisle area
Access to Team Shelby tent for entire event
Invitation to participate in the "Shelby Grand Entrance" on Friday afternoon
Participation is Carlisle Scavenger Hunt
Friday evening dinner and dinner program/auction
Entrance to Car Under the Stars Car Show
Saturday lunch in the Team Shelby Tent
Participation in Saturday evening Parade and Downtown activities (must sign-up as part of your Carlisle Fairgrounds registration)
CARLISLE WEEKEND PACKAGE:
Track Day Add-on (per person):



For drivers who have ample track experience and are comfortable being passed anywhere on track without point by's. All Drivers in this group will be asked additional questions to verify their competence. Max 60 vehicles

For drivers who have track experience and are comfortable being solo on track. Must have an understanding of all flags and protocol. Passing with point-by ONLY, max 50 vehicles.

For novice drivers and those not wishing to push their vehicles hard on track but still want the experience; (3) 30 minute sessions, no limit.
Register for Track Day here:
---
Carlisle Weekend Checklist:
Sign up for Team Shelby Carlisle Weekend Package
Sign up with Carlisle to register for the Ford Nationals AND the Downtown Parade on Saturday
Once you receive your Team Shelby registration confirmation, make your hotel reservation for Carlisle
If attending the Track Day on Thursday, be sure to make your track reservation and reserve your track hotel too